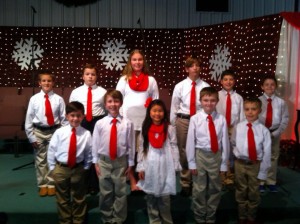 Children are a very special gift from God.  It is our privilege to minister to your child and teach them the good news of Jesus Christ.
We offer many opportunities for children of all ages and we have many wonderful volunteers who lead and teach children each week.
Weekly events on Sundays and Wednesdays offer bible teaching and fellowship for children.  We also have different ministries throughout the year for your child to be involved in, such as Bible Drill, Children's Choir, and Vacation Bible School.
Grace Baptist Church is committed to the safety and welfare of all children.  For this reason, all of our staff and volunteers have been screened through our Safe Place background information program.  We also implement child check-in and check-out procedures for nursery and preschool children.
We look forward to ministering to your child at Grace!